Our Story
We have been providing families in the heart of the Cobden area of Greymouth with high quality and home-like childcare for many years.
At Learning Adventures Cobden we value relationships, diversity and respect for all whilst providing a safe and secure environment for children to thrive.
We aspire as a learning community in the 21st century Aotearoa New Zealand, to strive to continually grow leaders, grow teachers and strengthen our partnership with families and the wider community to ensure positive learning outcomes for children.
Centre Information
Centre Hours:
Monday – Friday 7:45 am - 5:00 pm
Saturday, Sunday & Public Holiday Closed
Ages Catered For:
0 – 5 Years
Centre Capacity:
Nursery 0-2.5 years
Preschool 2-5 years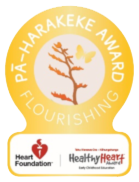 My children love coming to Learning Adventures Cobden they love the teachers and the relaxed atmosphere as do I. The teachers listen to both mine and the children's needs and it makes for an altogether awesome and enjoyable experience for parents and children alike.

Learning Adventures Cobden is an amazing place to bring your children to. They have a lot of activities for the children to play with. Brand new heat pumps with a loving environment. All the teachers are very friendly and are willing to help with any concerns your child needs. Awesome place I would highly recommend as a preschool for learning.