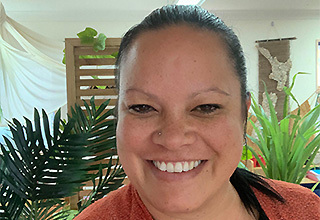 Celeste Jones, Centre Manager
What inspired you to become an ECE teacher?
Growing up surrounded by whanau and being the eldest of four children, I developed a natural instinct to be a nurturer. I then became a mother myself and instantly became intrigued by their development and capabilities and decided to follow my longing to work with young children and support their development and growth.
How long have you been working in this sector?
I have worked in the early childhood sector for 15 years. Ten of these have been in leadership roles, including Head Teacher and Centre Manager positions.
What do you love most about what you do?
I love playing alongside children and celebrating their milestones as they discover their capabilities and develop new skills and knowledge. Relationships with parents and whānau are important to me as it is their aspirations and values that underpin the learning environment I provide for their tamariki.
What makes your centre special?
Learning Adventures Katikati is a small licensed centre that boasts the stunning Kaimai ranges as a backdrop to our outdoor play space. It is located in the small and unique township of Katikati also known as the mural town of Tauranga. Having smaller numbers allows for intimate and meaningful teaching experiences between kaiako and tamariki that are calm and unhurried.
What's your favourite time of the year at the centre and why?
My favourite time of the year would have to be SUMMER!! This time of the year is a wonderful time for the tamariki and kaiako to enjoy our stunning outdoor area, getting wet and wild with water play activities and we are able to get out and about in our gorgeous community enjoying many experiences such as visiting the local library, fire and police stations, and enjoying the local parks and reserves.
What is your personal ECE philosophy?
The values and beliefs that underpin my teaching philosophy are to respect, nurture, and love all tamariki. To be a kaiako that provides a learning environment that excites and encourages our tamariki to play, enquire and discover new knowledge and understanding. To be present and follow the children's interests, to respect and support our parents and whanau in their aspirations for their tamariki. To always listen, support, and mentor my colleagues to be respectful and intentional teachers that contribute to laying the foundations for all tamariki to be enthusiastic lifelong learners.
Diploma in Teaching and Learning (Early Childhood), Full Teachers Registration, Practicing Certificate
more