Learning Adventures
The heart of learning. Helping support the development of children who are independent, self-reliant and caring, with a strong sense of their community. Learning Adventures children are known for their ready-for-life confidence.
Find a Centre
About Us
What we do nurtures children to be their best. We enable future potential. How? through the provision of loving care and high-quality learning. Learning Adventures children are adventurous, community-minded, respectful, resilient souls. They are well prepared for challenges they may face and ones still to come.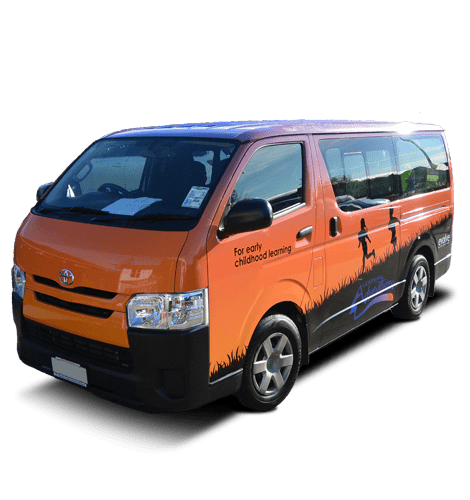 Testimonials
I first enrolled my son to start at Learning Adventures Warkworth when my husband and I began planning to purchase a business. As we moved through the business purchase process we needed flexibility with my son's daycare needs as we often had changing appointments. Learning Adventures Warkworth were always able to accommodate our needs, and our son got to have a wonderful time developing and playing with resources that we don't have at home! I love how comfortable and confident our son is with going to daycare, and I know he is being well cared for by all the lovely teachers and staff. Thank you!

My grandson love being at the centre where he has fun, fun, fun!

I have 3 super active boys who attend Learning Adventures Airport Oaks & they have the best time. They all started as 1 year olds & the transitions through each room seemed so smooth. I think the quality of learning has amazed me the most. Re-telling stories, reading numbers and some letters and pronunciation are just a few of the great skills my boys have adopted which I am truly grateful.

What I like about this place is that it's friendly and my daughter attended this school before so I thought my son could come here as well, close to home. Teachers are awesome to the children and it's very clean, tidy and well-presented.

It would have been easier for us to enrol our daughter in a childcare centre in Wellsford as its closer to our house – but we chose Learning Adventures Warkworth because we love it!

Our daughter has developed noticeably in every aspect and she is learning by having fun. The staff are very caring and you can tell all the children at the centre are very happy, which is a good thing and it is definitely a place you want your child to be.

Thank you guys, I won't hesitate to recommend you to anyone!

Awesome feel when we arrive every day, lovely staff and tamariki Whanaungatanga is great here.

My son has been going to Learning Adventures Mangorei now for 2 years.

They staff have been incredible with settling him in each day and making him feel apart of the great family atmosphere that they have.

He has multiple food allergies so this been a great learning curve for the centre to accommodate him. They are amazing, finding different brands of foods that I have suggested to bring into the centre so that he can eat similar foods to the rest of the children and not feel left out.

There is always fantastic activities around the place inside and out to do so this caters for all different children's interests.

I'm always informed of changes or important events happening at the centre which is great as a parent to know what your child is doing when you are not there.

I highly recommend the centre to anybody looking for child care.

All my children love to go to Learning Adventures Airport Oaks and are always wanting to head straight out the door first thing in the morning. The staff have always put our mind at ease and been able to challenge our children as well as having a loving environment for our children to become outgoing, independent and caring kids. Recently our eldest daughter turned 5 and two weeks into starting school the teacher said to us that her "language, story recollection, maths and alphabet skills are great and it is a credit to both her daycare and her parents". I could say so much more but at the end of the day, I recommend Learning Adventures Airport Oaks to all that I can and I dread the day that we have to say goodbye.

Our daughter has been attending Beachkids Katikati since 2013 and has absolutely loved it there! From the beginning, we have always felt a part of the Beachkids family.

We have really enjoyed seeing the transition our child has gone through from a 2 year old to a school ready 4 year old, as well as the many exciting programmes that have been on offer during her time there. We like the central location and the security of the centre.

The teachers are wonderful and friendly and our child is very well looked after. We love our Beachkids family!! We think they are the BEST!!! 

I love this centre because my daughter loves coming here. The staff are all friendly and nice. The centre is clean and tidy and I love dropping my daughter off.I know that she is well looked after and in great hands. Thank you for doing an awesome job. I can see my daughter is more confident and smart. Well done and keep it up! Thank you!