Learning Adventures are plugged right into the heart of the communities they serve; this is a warm, caring environment where the children's well-being comes first and ready-for-life confidence follows.
We embrace this pivotal position; Learning Adventures has a big heart and warm welcoming smile for everyone in all communities, embracing diversity, and we know we make a difference.
What does that look like in practice?  It begins with respect.  For people, culture, background.  We live it and we teach it. You'll find warmth in abundance at Learning Adventures. A nurturing, welcoming home-away-from-home is what our centres aspire to be. That's our starting point.
We welcome parents and whānau to the centre at all times, involving them as much as we can. We enjoy sharing family recipes, and teaching the tamariki how to make our food. Heritage and knowing the oral traditions and practices that guide who we are, are fostered and encouraged.
From there, we lead adventurous learning and play; we dig gardens and make space ships; we visit Marae and aged-care centres, we broaden experiences and minds. Some of our centres have a van that offers a daily pickup and drop-off service to ensure every child has the opportunity to participate. The rewards for us are fantastic.
We teach children who have a voracious appetite to learn, they are adventurous knowledge-seekers who can become independent, self-reliant and caring, with a strong sense of their community.
We call this 'ready-for-life confidence'; it's exactly what our children need to be ready for the challenges they'll face. From the hushed circle at reading time, to the mini-boot camps they love, they're experiencing our unique promise – 'The heart of learning!'
Learning Adventures is where we come together, and the children learn to be confident adventurers, with a strong connection to Aotearoa.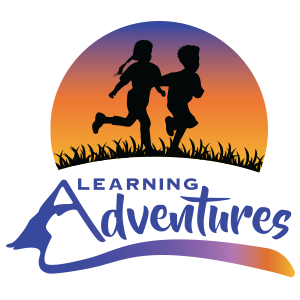 Our thirst for adventure.
The image of a boy and girl running towards the excitement of a new day, and beneath them Learning Adventures, embraced by the mountains, land and rivers that reinforce our sense of place, a secure and confident grounding in Aotearoa.
Our children are ready for adventure, they embrace the freedom that is part of the experience of growing up in New Zealand. We acknowledge that children come here with a wealth of knowledge and experiences for us to draw from. We actively explore Papatuanuku in our local area and engage with the rich resources in our community. There's a palpable connection to our place on the earth.