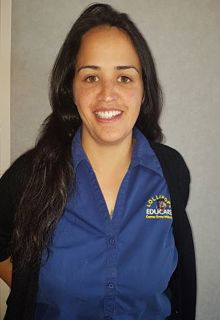 Kaya Broughton , Centre Manager
What inspired you to become an early childhood teacher?
My whanau are my inspiration and drive behind everything I do. Growing up I always had younger cousins around me and because I was one of the oldest, it was only natural that I helped take care of them. These experiences at a young age sparked the fire for me to want to grow up and be a Kaiako one day. Further down the track that opportunity presented itself to me and here I am today!
How long have you been working in this sector?
I had been working in retail for three years when a friend encouraged me to apply at her childcare centre for a teacher in training position – and so began my journey of obtaining my degree in early childhood education. In February 2014 I graduated with my 9 month old daughter and all whanau proudly supporting me in the crowd. It is still one of my best memories to date! Shortly after, I started a new position in Palmerston North working as a Kaiako at Lollipops Educare Broadway Ave. I'd been at that centre for a little over a year when the company looked at expanding and opening a centre in my home town of Levin. I applied for a transfer within the company and have been here at the centre since the day we opened. Every day we keep growing bigger and better. 
What do you love most about what you do?
I love the relationships and connections I make working in this sector. From parents/whanau, tamariki, staff, company representatives and so many more faces and people I meet, it's overwhelming to sit down at the end of a busy day and reflect on all the connections I have made. The most rewarding aspect of my role is seeing the growth in the tamariki and their whanau. Some of these tamariki are with us full-time, five days a week while their parents are working hard for their whanau. We do our very best to make everyone feel like they're a part of our centre whanau and we go above and beyond to meet parents' aspirations and expectations.
What are three things that make your centre special?
Whanau (family), aroha (love) and manaakitanga (hospitality, kindness and generosity).
What is your favourite time of the year at the centre, and why?
Christmas because we host a centre Christmas party where we get to share lots of yummy food, we enjoy fun activities set up by the Kaiako and spend time with our parents/whanau and the tamariki outside our centre. Everyone also looks forward to our yearly lolly scramble (sugar free of course!) which even gets the parents participating and trying to beat the kids to all the good lollies.
What is your personal ECE philosophy?
My own personal philosophy is based on relationships. Without relationships you can't access all that important knowledge parents/whanau contribute and bring to the table for their tamariki. Enrolling your child into care is hard, but I believe in building a relationship with parents/whanau based on trust and shared knowledge. This gives families peace of mind because they leave our centre knowing that their child is part of a whanau who loves and cares for them as much as they do. That's what I strive to achieve when my whanau walk in and out of our centre.
What do you like to do in your free time?
I enjoy spending time with whanau, celebrating with friends, keeping myself fit, and supporting my own little whanau with their achievements.
Bachelor of Teaching (Early Childhood Education)
Fully registered teacher
more