Keeping our teeth clean and strong with Coralee
Here at Learning Adventures Maraenui we have been thinking about how we can support the health and well-being of all tamariki who access our service, particularly with oral health.
Whaea Piri contacted her friend Coralee Thompson, a kaiawhina who works for the DHB in the Community Oral Health Service here in Hawke's Bay. Thank you whānau for providing permission for your child to participate in today's oral hygiene experiences facilitated by Coralee and supported by the teaching team today.
Coralee started off by having a korero (chat) with the tamariki (children) about the importance of brushing their teeth so they stay nice and strong. Brushing their teeth twice a day and drinking lots of milk and water will help keep their teeth in good condition and help their teeth to grow big and strong for a long time.
The tamariki had a lot of fun engaging and interacting with the teeth and tooth brush prop brought in today where they had the opportunity to learn the correct way of brushing teeth. Coralee taught that we must brush our teeth in small circular motions to grab all of the furry plaque and pieces of food stuck in between the teeth. Tamariki also learnt that when they brush their teeth their teeth will be "happy" and they will be too.
After the demonstration was done, Coralee applied fluoride to their teeth one person at a time. The tamariki found this process and procedure to be very interesting, patiently observing while waiting for their turn. Everybody showed a lot of patience while waiting for their turn, during this process some tamariki were shy and a little unsure about it. But with the support of their kaiako with an explanation of what was happening their insecurities and fears disappeared.
We would like to give a big thank you to Coralee for supporting Learning Adventures Maraenui with her services. We will be working closely and collaboratively with Coralee here on out to support the oral hygiene of all tamariki enrolled at LAM.
Every so often the dental mobile clinic is based at Richmond Primary School through the school field. Now that we have established a relationship with Coralee we are able to access this service as another outlet of oral hygiene support as well as organising visits to the Onekawa dental clinic with small groups of tamariki if need be also.
In our next team meeting the teachers will plan and discuss our next steps on how we can support tooth brushing her at the centre in the near future and trial this in action. Watch this space! We will update soon on our journey and progress of where to from here. Stay tuned!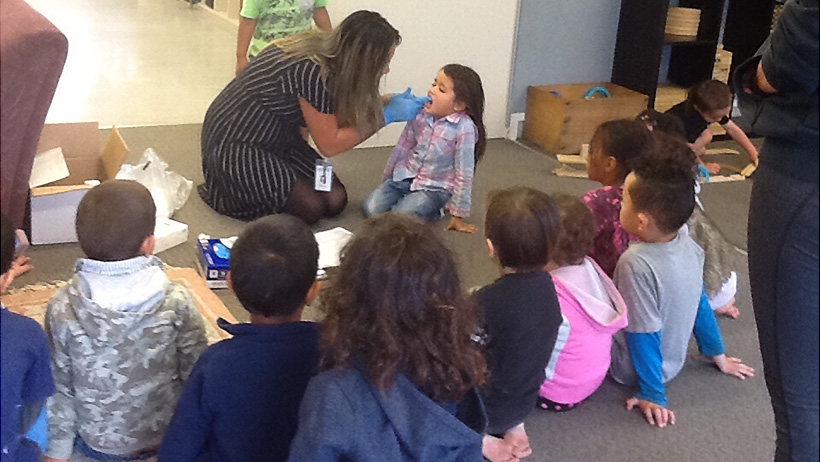 )