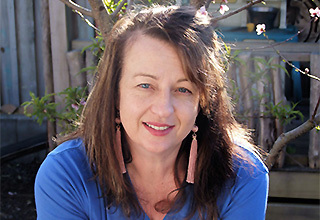 Kelly-Marie Brabyn, Centre Manager
What inspired you to become an early childhood teacher?
Children are amazing young people with so much to offer our world, how lucky am I to be able to spend time with them?!
How long have you been working in this sector?
Since the dinosaurs roamed the earth – about 25 years!!

What do you love most about what you do?
The amazing abilities of our youngest citizens of Aotearoa, their zest and spontaneity. But also, the nurturing and relationship side of my role with the children, their families and my work colleagues.
What are three things that make Learning Adventures Ashhurst so special?
Our country feel, the unique setting at the bottom of the Ruahine Ranges and start of the Manawatu Gorge, and our fantastic staff – a mixture of young and mature educators from all walks of life. Our commitment towards Te Ao Maori, te reo Maori and Tikanga Maori is also very special.
What is your favourite time of the year at the centre, and why?
Winter! Rain gear, gumboots and splashing in puddles.
What is your personal ECE philosophy?
I believe in encouraging the children's abilities and interests, having fun, being caring and warm, and showing kindness towards each other.  Relationships are at the core of our industry.
What do you like to do in your free time?
We have just spent the last two years renovating our house so now we are working on the gardens. I love reading and spending time with my family.
Bachelor of Teaching in Early Years, Post-graduate Certificate in Infants and Toddlers.
more