Learning Adventures Maraenui
Our Story
What makes us different...
Learning Adventures operates as a tuakana teina centre. We have one large space inside & outside where the older and younger children work and play alongside one another and learn from each other. A strong emphasis on whakawahanaungatanga, which means establishing relationships, where all children and their whānau feel a sense of belonging in the environment. We have programmes in place to ensure whānau involvement where whānau are welcomed into the centre and invited to contribute their thoughts and ideas.
We value the natural world and provide a lot of natural resources in the programme. We have fruit trees and gardens in our environment so that children can taste and enjoy fruit and vegetables they have grown themselves and we help children learn about a sustainable future.  We strive to have reciprocal links with the wider community and work with community agencies to support and enrich children's identity and learning opportunities.
Learning Adventures is a fun, inviting centre where children are engaged in their play, learning as they interact with people, places and things.
ERO Report
The Education Review Office (ERO) is the New Zealand government department that evaluates and reports on the education and care of students in schools and early childhood services. ERO's reports are used by parents, teachers, early childhood education managers, school principals and trustees, and by government policy makers.
Early childhood services are reviewed on average once every three years. Reviews will be more frequent where the performance of a school or centre is poor and there are risks to the education and safety of the students, or less frequent where a school has a stable reporting history and demonstrates good self-review processes and use of its assessment information.
You can read our centre's ERO review here.
Centre Information
Centre Hours:
Monday – Friday 7:45 am - 5:15 pm
Saturday, Sunday & Public Holiday Closed
Ages Catered For:
2 - 5 Years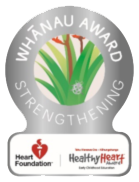 I know my girls not only love the centre but the staff too. They bonded with the staff so quickly

I believe my son has thrived since being here And I am happy with his progress

My child is getting the best care and learning here at Learning Adventure I'm very grateful

Awesome feel when we arrive every day, lovely staff and tamariki Whanaungatanga is great here.