Learning Adventures Warkworth
Our Story
Learning Adventures Warkworth is a warm and homely daycare nestled in a quiet, residential area of Warkworth near Matakana in Auckland. We operate an open-door policy with our families and encourage parents to spend as much time at our childcare centre as they like!
Our children have access to a huge variety of learning experiences, incorporating our sustainable approach in caring for our children, environment and future. Our mini orchard, vegetable gardens and chickens provide ample opportunities for engaging with nature and enjoying fresh, organic produce.  
Regular trips & excursions
Transition to School programme
Caters for ages 0 - 5 years
Influence by RiE – a respectful approach
Ample outdoor space for all ages
Affordable fees & flexible sessions
20 hours free ECE for 3 - 5 year olds
Community focused
Provide delicious, nutritious meals
Provide cloth nappies
Dedicated quiet sleep rooms
ERO Report
The Education Review Office (ERO) is the New Zealand government department that evaluates and reports on the education and care of students in schools and early childhood services. ERO's reports are used by parents, teachers, early childhood education managers, school principals and trustees, and by government policy makers.
Early childhood services are reviewed on average once every three years. Reviews will be more frequent where the performance of a school or centre is poor and there are risks to the education and safety of the students, or less frequent where a school has a stable reporting history and demonstrates good self-review processes and use of its assessment information.
You can read our centre's ERO review here.
Centre Information
Centre Hours:
Monday – Friday 7:30 am - 5:30 pm
Saturday, Sunday & Public Holiday Closed
Ages Catered For:
3 Months – 5 Years
Centre Capacity:
Licensed for 50 children, including 15 Under 2.
Nest 0-2years
Piwakawaka 2-5years
Tui 4 year old group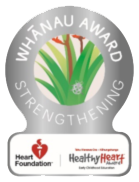 My husband and I are delighted with the care that has been provided to our Son at Learning Adventures Warkworth. All the teachers are incredibly dedicated and its clear to see that each one of them have a genuine enthusiasm for their role and are passionate about each child and their individual needs.

Our Sons continued happiness and development are a true testament to the wonderful environment Learning Adventures Warkworth provides.

It would have been easier for us to enrol our daughter in a childcare centre in Wellsford as its closer to our house – but we chose Learning Adventures Warkworth because we love it!

Our daughter has developed noticeably in every aspect and she is learning by having fun. The staff are very caring and you can tell all the children at the centre are very happy, which is a good thing and it is definitely a place you want your child to be.

Thank you guys, I won't hesitate to recommend you to anyone!

People make a place and I have found the staff at Learning Adventures Warkworth supportive and helpful while providing quality care of my two children, and would not hesitate to recommend Learning Adventures Warkworth to anyone.

OMG this has to the best advertising for Learning Adventures Warkworth! (Response to her son engaging in mud play). In the middle of housing, little boys can still be boys. One of the main reasons we choose Learning Adventures Warkworth -as well as the awesome ladies who look after and teach our children.

I first enrolled my son to start at Learning Adventures Warkworth when my husband and I began planning to purchase a business. As we moved through the business purchase process we needed flexibility with my son's daycare needs as we often had changing appointments. Learning Adventures Warkworth were always able to accommodate our needs, and our son got to have a wonderful time developing and playing with resources that we don't have at home! I love how comfortable and confident our son is with going to daycare, and I know he is being well cared for by all the lovely teachers and staff. Thank you!

My daughter has been attending Learning Adventures Warkworth for the past 3 years.

Learning Adventures Warkworth is just like extended family, staff are great, well trained and the children love them. Learning Adventures Warkworth keep you up to date with your child's progress and achievements and offer children the freedom to explore and discover.

Wouldn't consider any other childcare for my daughter.

Marcus and I have been particularly impressed by programme that is currently happening on the four year old side of Learning Adventures Warkworth. Coen has been learning phonic sounds for letters and is now able to come home and look at an alphabet book, sound the letters out and also suggest words that start with the particular letter.

We feel that this is excellent preparation for reading at school and something our older daughter missed out on at another daycare. It was particularly funny when he had a friend over (who attends the same daycare) and they spent some time both teaching each other the letters. I am really grateful to the initiative of the teachers to reach out to the local primary schools. They organise school visits (difficult for working parents), as the children are reaching school age, and the teachers also find out how to support the early learning for the writing and reading programmes at the primary schools.

"We cannot rate Learning Adventures Warkworth highly enough. The teaching standard and variety of activities available for the children is excellent."

Nikki and Mike Howard
Warkworth