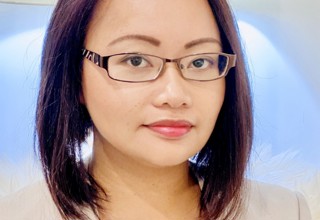 Jane Pintucan, Centre Manager/ Piwakawaka Head Teacher
What inspired you to become an early childhood teacher?
I have loved working with children even at a young age: I've worked with children through our Children's Bible school from when I was 12. It has always been a passion. But my journey with the ECE sector came about because of my niece, Kloe. When she was conceived, her parents were firm in their resolve that she would be raised in a RIE home; hence I had to study RIE and attachment theory fast and good! In the end, what I learned from all the RIE books and articles I read could never amount to what Kloē herself taught me – that if we let them, children can teach us how to be respectful, how to be human. By letting her have a voice, by letting her exercise her will during my interactions with her – she was teaching me that I could be patient, that I could listen, that I could honour her – the child – as an individual. I've always believed that the first five years are the most critical years in a child's life, and what I have learned through my relationship with Kloé has strengthened my conviction in learning as much as I could to become an experienced child development professional and be able to contribute towards positive outcomes for children and families.
What do you love most about what you do?
Firstly, I get to work with the youngest in our communities, watch them learn and achieve. I love that I get to explore their minds, find out how they learn best, and help them grasp new concepts and skills so they can form their own unique view of their world. Second, I get to work with amazing teachers who only want what's best for the children – supporting them in creating an enriching and stimulating learning environment that allows the children the freedom to make their own choices and master their will. And last; working in partnership with the parents and the local community to design a rich curriculum that is meaningful for each child in the centre.
What is your ECE philosophy?
My teaching philosophy is driven by what I believe the world needs today – us helping raise children who are empowered, kind, compassionate, and inclusive. Each child has unique interests, personality, cultural background, developmental stage and, therefore, needs. I believe that celebrating diversity and acknowledging each child's cultural background will help children develop a positive perception of their own culture and will help them develop their identity and be respectful and accepting of others'. It is important to me that all children and their respective families feel welcome and accepted – that each child is given equitable opportunities for learning, growth and development. I also believe that children have the right to have their specific needs met in a loving and respectful manner. I am committed to advocating for their rights through effective implementation of Te Whāriki in my day-to-day practice and pedagogy. In the spirit of aroha, whanaungatanga and manaakitanga, I seek to form genuine relationships based on trust and respect – with the children, with their whānau, and with my colleagues.
more